Argenta - Comacchio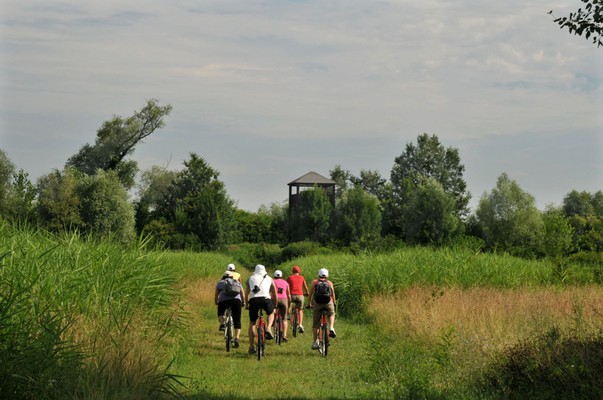 Argenta is one of the visiting stations of the Po Delta Park. At the Oasis of Val Campotto you can visit the Museo delle Valli di Argenta with the Ecomuseum, the Land Reclamation Museum and all the beautiful natural area. Once you have visited the nearby parish church of San Giorgio, through riverside paths in the network of canals and reclaimed land, you leave the sweet lagoons of Argenta to reach the brackish ones of Comacchio. Along the way you can admire the rich bird life of the Delta, which includes, among others, purple herons and pink flamingos until reaching the Agosta embankment, which overlooks the wetlands. Turning left, we reach the lookout tower of Valle Zavelea and finally, in a suspended reality, between land and water, ancient traditions and strong scents, you arrive at beautiful Comacchio.
Travel time and technical features
Medium length route, mainly on paved roads with low traffic intensity. Pay attention while riding on the Agosta Embankment Road. Cycle-pedestrian dirt road north of Comacchio (FE417).
last modified

Mar 27, 2020 05:14