Padova - Ferrara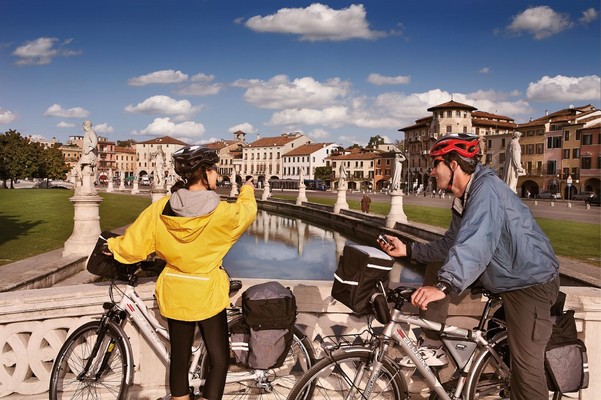 We leave the beautiful historical centre of Padua, the Basilica of St. Anthony and the Scrovegni Chapel with its precious frescoes by Giotto and ride out of town from the Bassanello area, taking the Battaglia canal bike path and proceeding towards Monselice, with the Euganean Hills in the background. After the walled city, you will reach the small, but beautiful Este, a city of historical and archaeological interest from which the Este family originated. The route ideally follows the path that the Este Signoria took towards Ferrara; pedal along the Adige river and cross it at Boara Pisani. Proceed towards Polesella through the Veneto countryside and cross the Po. From here we reach the Mulino di Ro and the Destra Po right up to the Este Castle and the UNESCO Heritage City of Ferrara.
Travel time and technical features
From Padua to Este follow the bike path built on the embankments of the Battaglia and Bisatto canals. From Este the itinerary takes you along embankement roads, and then, after the Po river, along paved bike trails and on low traffic roads.
Padova 45°24'27.33" N / 11°52'37.06" E

Ferrara 44

°50'12.65" N / 11°37'11.00" E

114,8 km
7h 39' (15km/h) 3h 17' (sport)



last modified

Mar 28, 2020 12:49