Ferrara - Comacchio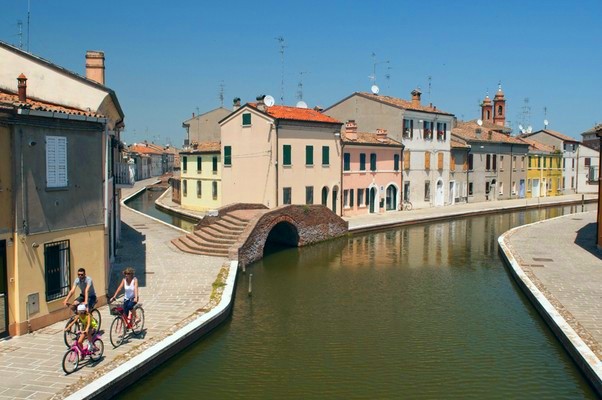 Leaving the Delizie of Ferrara, you reach the Delizie of Belriguardo in Voghiera and the Verginese ones in Portomaggiore, and again the Museum of the Territory and the Vallette of Ostellato, the Villas and the Harness Racing Museum in Migliarino. Flanking the Po di Volano, you pass through Migliaro and Massa Fiscaglia with the old control tower of Tieni, Codigoro with its colourful Riviera and the large rationalist square, to then reach Pomposa Abbey, a masterpiece of medieval religious architecture. You then arrive at the lagoons and pine forests of the Po Delta Park, the Nazioni Lake and finally Comacchio with its canals, Trepponti, the Eel Pickling Factory, the Ancient Delta Museum and the delightful and charming old historical centre.
Travel time and technical features
A route that requires good training to be completed in one day. Ideal in two days, with a stop in Ostellato. It runs on exclusive cycle-pedestrian paths and back roads with low traffic, it is mainly paved, but with a few gravelly and sandy stretches. It is marked in the sections between Ferrara and Ostellato with FE407, and between Volano and Comacchio with FE30, FE417.
| | |
| --- | --- |
| | Ferrara 44°50'12.65" N / 11°37'11.00" E |
| | Comacchio 44°41'44.44" N / 12°10'53.84" E |
| | 103,4 km |
| | 6h 54' (15km/h) |
| | 31% cycle path / 69% mixed traffic |
| | 83% paved / 17% unpaved |
| | |
| | AdriaBike - Argenta - L'anello dell'Est |
last modified

Mar 27, 2020 05:26