Ferrara - Bondeno - Ferrara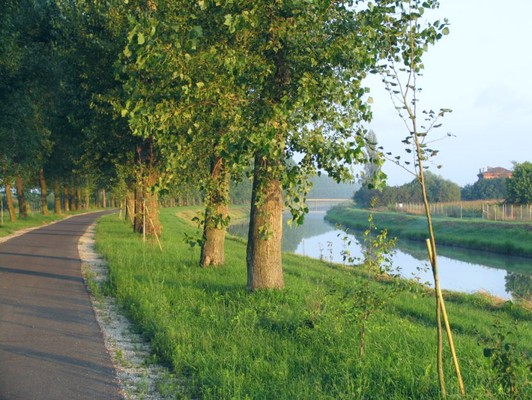 From the beautiful City Park of Ferrara proceed counter current to the flow of the Great River to Bondeno. We recommend a stop in the tourist farms in the area, before returning to the city by the beautiful Burana cycle route, a fully tree-lined path that leads to the entrance of Ferrara, along the canal.
Travel time and technical features
Medium length route without any particular difficulty, flat, marked and almost entirely on trails (FE213, FE20, FE101). It's all paved except for a short stretch of dirt road on the Walls. Mostly sunny, with a long stretch in the shade at the side of the Burana Canal. Pay attention to the road crossings to be made at the properly marked points.
| | |
| --- | --- |
| | Ferrara 44°50'12.65" N / 11°37'11.00" E |
| | Ferrara 44°50'12.65" N / 11°37'11.00" E |
| | 58,4 km |
| | 3h 54' (15km/h) |
| | 87% cycle path / 13% mixed traffic |
| | 97% paved / 3% unpaved |
| | |
| | Destra Po, Garda - Adriatico |
last modified

Mar 27, 2020 05:24