Pomposa - Mesola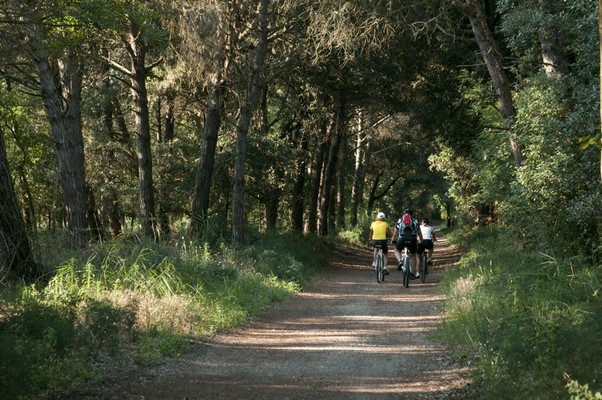 After visiting the Palazzo della Ragione, the Church of Santa Maria with the Chapter House and the beautiful Refectory, follow the road from the Abbey of Pomposa in the direction of Venice. Leaving the Airfield of Val Giralda behind, you reach the entrance of the Gran Bosco della Mesola Nature Reserve, with its luxuriant vegetation, a natural habitat for native deer. Leave the forest to your right and proceed until Torre Abate, an ancient artefact of the water control system that uses the lock gates designed by Leonardo da Vinci. Through the countryside you reach the village of Mesola, with its Este Castle overlooking the Po di Goro and the Museo del Bosco e del Cervo. From this point you can easily reach the Destra Po path or you can choose a boat trip, if booked in advance.
Travel time and technical features
Short itinerary suitable for all, marked, completely paved, mostly on secondary roads with low traffic flow with some sections on exclusive cycle-pedestrian paths. For this route it is possible to ask the Tourist Information Offices for the relative Bike Map (scale 1:70,000).
Abbazia di Pomposa 44°49'55.48" N / 12°10'31.26" E

Mesola 

44°55'23.55" N / 12°13'50.23" E

21,8 km
1h 27' (15km/h)

22% cycle path / 78% mixed traffic

100% paved / 0% unpaved


Destra Po, Ostellato, Comacchio, Goro, AdriaBike
last modified

Mar 28, 2020 12:50