Pomposa - Comacchio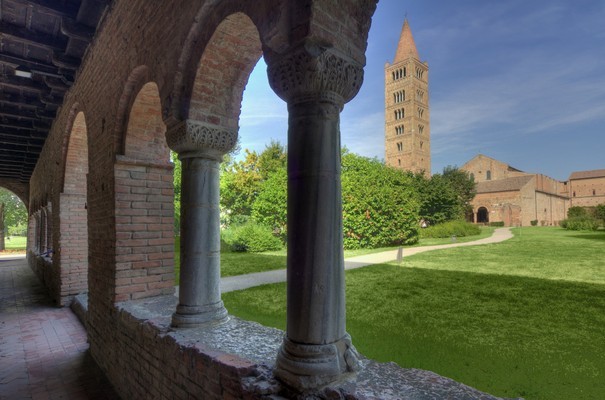 Once you have left behind the thousand-year old Abbey bell tower, go towards the sea, past the oasis of Cannevié-Porticino to the Torre della Finanza. Continue to Lido di Volano with the complex of the Madonnina and its docking and lookout tower, and you reach the beach resorts of the 7 Lidi di Comacchio. From Porto Garibaldi, along the harbour canal with its fishing boats, veer towards Comacchio and its historical centre. Alternatively, a small and fast ferry will take you to Lido degli Estensi, from where you can go to Lido di Spina, home of the prestigious Remo Brindisi Museum.
Travel time and technical features
Medium length route with no particular difficulties, marked FE30, FE417, it runs on low traffic flow roads and cycle-pedestrian paths. Mainly paved, except for about 6 km of gravel and sand road in the pine forest between the Lido di Volano and the Lido delle Nazioni. We recommend the use of an adequate bicycle and carrying a puncture repair kit.
Abbazia di Pomposa 44°49'55.48" N / 12°10'31.26" E

Comacchio 

44°41'44.44" N / 12°10'53.84" E

32,6 km
2h 10' (15km/h)

39% cycle path / 61% mixed traffic

82% paved / 18% unpaved


Ostellato, Ferrara, Mesola, Valli di Comacchio, AdriaBike, Argenta
Itinerary locations
Lido degli Estensi

Lido degli Scacchi

Lido delle Nazioni

Lido di Pomposa

Lido di Spina

Lido di Volano

Pomposa
last modified

Apr 16, 2020 04:26