Ferrara - Ro - Migliarino - Ostellato - Ferrara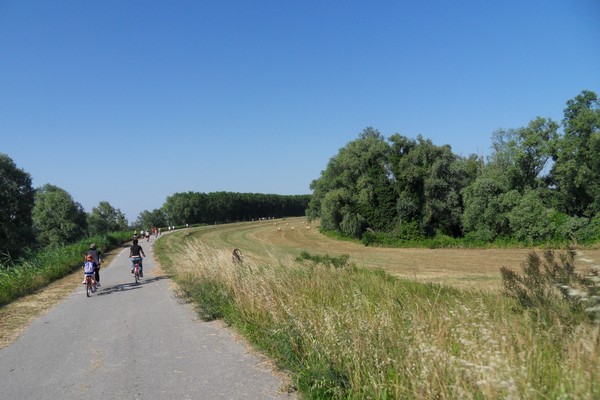 From the Estense town of Ariosto and Tasso, you head towards the Destra Po and the town of Ro, near the Great River, nestled in the countryside dear to the writer Bacchelli. You then proceed to Copparo, the birthplace of the '900 poet Govoni, who so well describes the country roads along which there are scattered houses, tidy crops and pumping stations, lonely churches, artefacts and villages that reveal and illustrate the traditions of these lands better than any writing. At La Tratta Museum, you can attend the presentation of three different cycles of peasant culture: wheat, hemp and wine. Finally, we reach Migliarino and Ostellato and return to Ferrara following the routes described on Ferrara - Ostellato itinerary.
Travel time and technical features
A long loop trail for which a minimal training is necessary. It is not particularly difficult, and is completely paved apart from a dirt road in Ferrara and a gravel one between Migliarino and Ostellato. Partially marked (FE20, FE407) it runs partly on exclusive cycle paths and partly on low traffic density secondary streets or with restricted access.
Ferrara 44°50'12.65" N / 11°37'11.00" E

Ferrara 

44°50'12.65" N / 11°37'11.00" E

106,1 km
7h 04' (15km/h)

34% cycle path / 66% mixed traffic

95% paved / 5% unpaved


Destra Po, Bondeno, Pomposa, Cento
Itinerary locations
Information office
Main Tourist Information Office of Ferrara

0532 419190

infotur@comune.fe.it

http://www.ferrarainfo.com
last modified

Feb 18, 2015 06:31