Ferrara - Argenta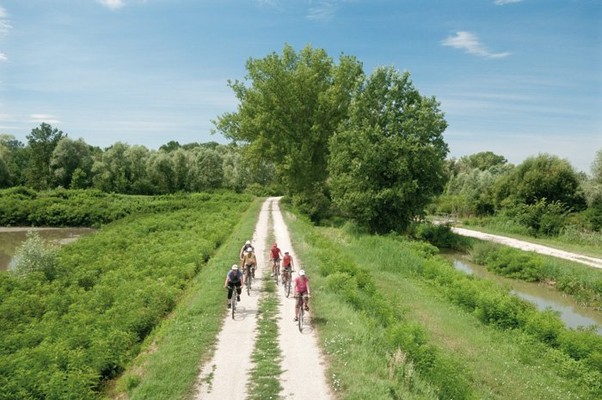 From the Este Castle of Ferrara, you cross the city centre and exit from the Bastion of S. Antonio and, following the course of the Po di Primaro, you pass through small villages and country towns to reach the Traghetto oasis. Here you leave the Primaro to follow the river Reno. Approaching Argenta, a break is necessary to visit the beautiful Land Reclamation Museum, an industrial archaeology installation inserted in an Art Nouveau set of buildings, and the church of San Giorgio, the most ancient in the territory of Ferrara (dating back to the VI Century), surrounded by a magnificent park. You then proceed through the green and blue Campotto oasis in order to visit the Museo delle Valli and to plunge into the bird-rich nature of the Po Delta Park.
Travel time and technical features
Medium length route with no particular difficulties and mostly paved. The exit from the city on Via G. Fabbri requires attention because of possible traffic especially at certain times of day, particularly at the roundabout with Via Wagner and, to a lesser extent, in the next section to Torre Fossa. The rest of the route does not present any particular problems.
| | |
| --- | --- |
| | Ferrara 44°50'12.65" N / 11°37'11.00" E |
| | Argenta 44°36'51.86" N / 11°50'8.64" E |
| | 45,5 km |
| | 3h 02' (15km/h) |
| | 31% cycle path / 69% mixed traffic |
| | 70% paved / 30% unpaved |
| | |
| | Comacchio, AdriaBike, Ravenna |
last modified

Mar 27, 2020 05:21