Ostellato - Pomposa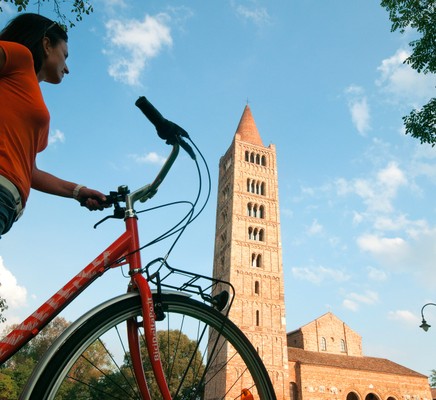 Leaving behind the Anse Vallive of Ostellato and the Museum of the Territory through low traffic back roads, you reach the Po di Volano in Migliarino which, with its picturesque coves, slowly flows towards the sea. The route passes through the countryside of Ferrara and the villages of Migliarino, Migliaro and Massa Fiscaglia until Codigoro where you leave the Po di Volano and head along the cycle route in the direction of Pomposa. The tall bell tower of the Abbey, which stands out on the plain, is the ultimate goal: a Benedictine monastery, a jewel and a treasure trove of Romanesque architecture, it houses important frescoes by Giotto's school and a beautiful mosaic floor inlaid with precious marbles placed between the VI and XII centuries. In the adjoining meadow a welcome respite and a well-deserved rest in the shade of its willow trees.
Travel time and technical features
Medium length route with no particular difficulties, mainly on low traffic intensity roads which are partly paved and partly gravel (the longest stretch, about 9 km, is between Massa Fiscaglia and Codigoro). The final section between Codigoro and Pomposa is a paved exclusive cycle path (FE218). It is part of the Ferrara-Comacchio itinerary.
| | |
| --- | --- |
| | Ostellato 44°44'34.47" N / 11°56'30.86" E |
| | Pomposa 44°49'55.48" N / 12°10'31.26" E |
| | 30,0 km |
| | 2h 00' (15km/h) |
| | 25% cycle path / 75% mixed traffic |
| | 68% paved / 32% unpaved |
| | |
| | Ferrara, Comacchio, AdriaBike, Ro |
last modified

Mar 28, 2020 12:47