Anse Vallive - Po Delta Park
They constitute the only remains of the former marshes that once surrounded the village, saved from the most recent reclamation of the Valle del Mezzano and set up as an 'Animal Sanctuary'.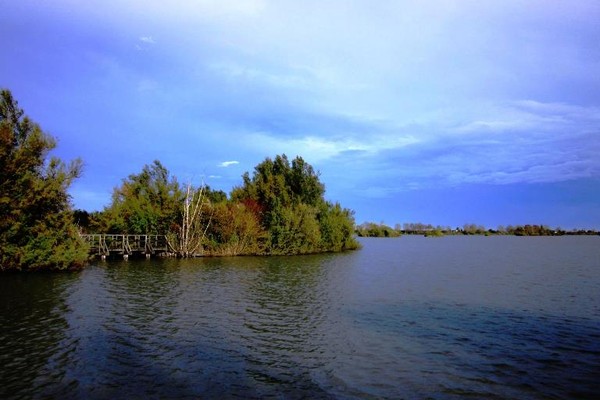 The four marshy coves constitute a freshwater wetland biotope, which is distinctive and unique in the Ferrarese lowland territory, above all for the quantity and variety of animals that populate it. There are no less than 150 species of aquatic birds that nest or visit. All the heron species (great white egret, grey heron and purple heron), a large number of waders, including the stilt-plover, birds of prey such as the marsh harrier and the buzzard can all be sighted. The vegetation is typical of freshwater wetlands, characterised by cane thickets, white and yellow lilies and flowering rush in the permanently flooded areas. On the embankments are white willow, water chestnut and elderberry. The reserve is well equipped for various activities such as birdwatching, walking, cycling, horse-riding, angling and canoeing. At the entrance there is also an astronomic observatory.
Opening
April and May: 7.00 am - 6.00 pm (closed on Monday)
June, July, August: 7.00 am - 7.00 pm
September and October: 7.00 am - 6.00 pm (closed on Monday)

How to get here
The Valli are 2 km from the village of Ostellato.
By car: A13 exit Ferrara Sud; the link road Ferrara-Porto Garibaldi Ostellato, continue along Via Argine Mezzano following signs to the Valli.
By train: line Bologna-Ferrara-Codigoro (FS) station Ostellato.
By bus: line ATC 1900-2000; Ferrara-Ostellato.
44° 44' 35.22" N - 11° 58' 11.56"E
last modified

Apr 28, 2022 12:29