Ravenna - Ferrara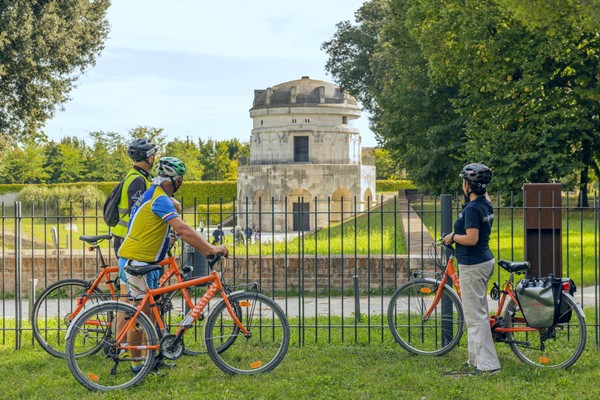 An itinerary which joins two UNESCO World Heritage Cities: Ravenna with its mosaics and its churches, its traditional Romagna cuisine and Ferrara, with its palaces and the Castle, full of the flavours and traditions of the Renaissance. From Ravenna you can ride along the coast passing from Lido to Lido, to then enter the beautiful ecosystem of Comacchio and the Po Delta. You then head through the rich Emilia-Romagna countryside, on the banks of the rivers, first along the Reno passing close to the town of Argenta with its lagoons. Subsequently, accompanying the meandering Primaro River you reach the gates of the town of Este, with its Castle, the Medieval Via delle Volte and Piazza Trento e Trieste with its white Cathedral.
Travel time and technical features
A long route with no particular difficulties for which, however, a minimal training is required. These are secondary roads with low traffic intensity, and there are several stretches of exclusive cycle-pedestrian paths. Please note the long stretch of gravel of about 35 km, on the bank of the Reno River between the bridge of Bastia and the town of Traghetto. Alternatively, you can refer to the paths which, from St Alberto, allow you to reach Ferrara along paved back roads.
Ravenna 44°25'6.22" N / 12°12'28.31" E

Ferrara 44

°50'12.65" N / 11°37'11.00" E

112,7 km
7h 31' (15km/h)



AdriaBike
last modified

Mar 28, 2020 12:54