Cathedral
THE INTERIOR IS CLOSED FOR RENOVATION WORKS. The cathedral of Ferrara dates from the 12th century and bears witness to all the historical periods of the city. The outstanding façade, divided into three sections, was begun in Romanesque style, still visible in the lower part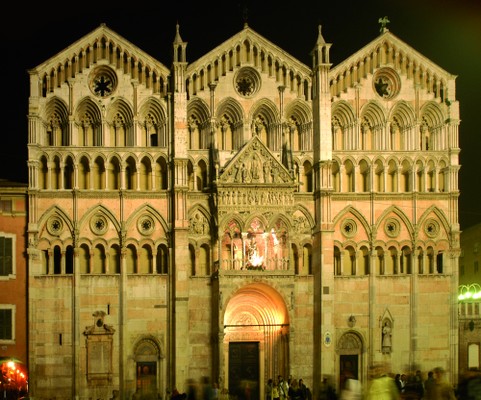 Note the St. George and the scenes from the New Testament above the central door, the work of the sculptor Nicholaus (1135). The upper part was built some decades later in a Gothic style and besides the numerous small arches and the splayed mullioned windows presents an extraordinary Last Judgment by an unknown sculptor over the central loggia. The side facing Piazza Trento e Trieste is decorated with two galleries and small columns of various shapes. At ground level is the Loggia of the Merchants, occupied by shops since Medieval times. Half way along the south side what remains of the Porta dei Mesi, demolished in the 18th century can still be seen; some of its sculptures are conserved in the Cathedral Museum. The imposing Renaissance campanile, in pink and white marble, is an unfinished work attributed to Leon Battista Alberti. The brickwork apse, whose sober design is lightly embellished by terracotta arches and marble capitals, is the work of Ferrara's top architect and town planner, Biagio Rossetti.
Related documents
Price
Donations are welcome
Contacts
Ferrara
-
Piazza della Cattedrale

0532 228011

diocesi@diocesiferrara.it...
How to get here
On foot: 3 minutes from the Castle Estense
By bus: No. 1 and No. 9 from the station, stop C.so Giovecca - Teatini (300 meters).
Pedestrian area.
last modified

Oct 30, 2023 03:17