The Pickling Factory
The imposing eel pickling factory at Comacchio has reopened its doors.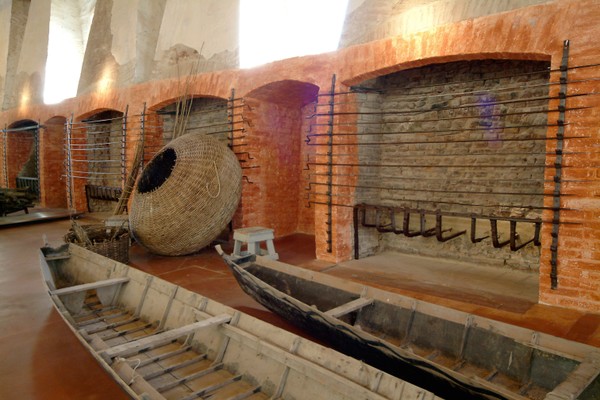 A piece of the delta's history returns to its former splendour to celebrate a past too important to be forgotten. Life in the Valli was hard, a life spent between the ubiquitous water and the meagre patches of flat land, searching for eels and fish to survive.
The Museo dei Fuochi tells of these affairs with its twelve functioning chimneys that served to give the eel that characteristic cooking that has put it back on modern menus.
The fires, the spits (until a few decades ago turned by the courageous women of Comacchio), the ancient structures and the barrels have all been restored to recreate the fascinating storyline of a territory interwoven with legends and truths.
A museum that is not just a place to visit, but also a symbol that allows us to fully understand the true conditions of a land constantly struggling with itself.
Bicycle rental
Opening
March - June and September - October
Tuesday - Sunday: 9.30 am - 1.00 pm and 3.00 pm - 6.00 pm
July and August
Everyday: 9.30 am - 1.00 pm and 3.00 pm - 6.30 pm
November - February
Tuesday - Saturday: 9.30 am - 1.00 pm and 2.30 pm - 6.00 pm
Sundays and holidays: 10.00 am - 5.00 pm
Info: +39 0533 81742 - +39 0533 314154 – manifatturadeimarinati@parcodeltapo.it
Free
Up to age 11 (with parents)
Tourist guides
Conscripts
Contacts
Comacchio
-
Via Mazzini, 200

0533 81742

manifatturadeimarinati@parcodeltapo.it
Information office
Ufficio Informazione e Accoglienza Turistica di Comacchio
Via Agatopisto, 2/a c/o Settecentesco Ospedale degli Infermi

0533 314154

0533 319278

comacchio.iat@comune.comacchio.fe.it

http://www.turismocomacchio.it
last modified

Nov 20, 2023 09:45