Delizia Estense del Verginese
In the small village of Gambulaga, set in the green countryside, stands this quaint Estense turreted villa, which, due to its small size, looks like a sort of miniature castle.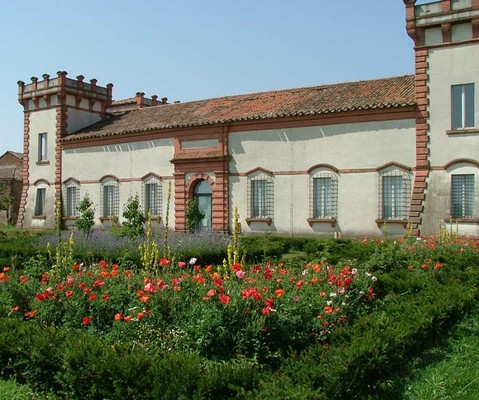 Alfonso I had it built at the beginning of the 16th century on the banks of the River Sandolo, a medieval branch of the Po that no longer exists, and it was the favourite residence of the duke's last companion, Laura Dianti. The architect Girolamo da Carpi converted a pre-existing farmhouse configuring the building as a castle bordered by four square embrasured towers. He used ashlarwork to the sides of the doors, on the corners of the towers and in the embrasures and gave the windows on the façade triangular and elliptical gables. The aim was by no means defensive, but was highly ornamental and ostentatious. Alongside, stands a small 18th-century church, joined the building by a portico of the same period. The interior, decorated from the 18th-century onwards with stuccoes in variegated ornamental forms, now hosts cultural reviews and exhibitions. The rooms of the Verginese are seat to the permanent exhibition "Mors Inmatura. Il sepolcreto dei Fadieni" featuring the finds from the Roman necropolis of the Fadieni family, situated a short distance from the Delizia. Sculpted steel, inscriptions, the portraits of the dead, bronzes, coins and a collection of finely decorated glass vases are on display.
Opening
Every Saturday, Sunday and Holidays (except December, 25th and 26th and January, 1st)
November-February: 10.00 am - 1.00 pm and 2.00 pm - 5.00 pm
March-October: 10.00 am - 12.30 pm and 3.30 pm - 7.00 pm
Price
Full: Euro 3,00
Red.: Euro 2,00 (children 6 - 12 years old, over 65).
last modified

Jun 20, 2022 10:45