Palazzo dei Diamanti
The magnificent Palazzo dei Diamanti, at the centre of the Addizione Erculea, on the important crossroads known as the Quadrivio degli Angeli, belonged to the duke's brother Sigismondo d'Este.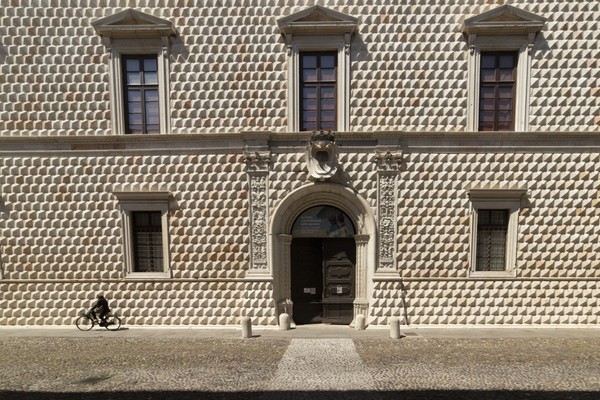 Its name derives from over 8000 pink and white marble ashlars in the form of pyramids (or diamonds) that cover the two façades. The architect
Biagio Rossetti
rendered it a
townplanning masterpiece
by placing the most important decoration on the corner: a contrivance destined to highlight the importance of the crossroads and make the building an entirely original work, designed as it was to be viewed in perspective rather than from in front of the façade. Indeed, the corner adorned with splendid sculpted candelabras by Gabriele Frisoni and by a gracious balcony (added a little later) tends to lead the visitor towards the nearby Piazza Ariostea. Inside, the structure develops over three wings, originally on a U-shaped layout, but altered by subsequent conversions. Some rooms on the piano nobile conserve remarkable 16thcentury ceilings.
Today, the palace is home to two museums:
Opening
Visits are possible during the opening hours of the National Picture Gallery and of the Gallery of Modern and Contemporary Art.
How to get here
On foot: in 5 minutes from the Este Castle;
By bus: 3/C from the Train Station.
last modified

Jan 18, 2021 11:59