House of Ludovico Ariosto
The house, probably built to the design of Girolamo da Carpi, has a simple but elegant brick façade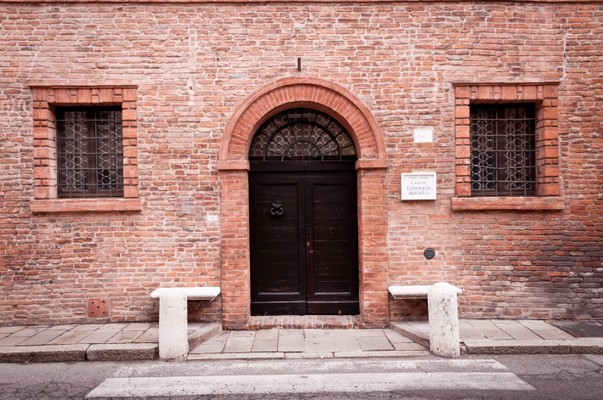 "Parva, sed apta mihi, sed nulli obnoxia, sed non sordida, parta meo, sed tamen aere domus".
"The house is small but suitable for me, clean, free of expenses and purchased solely with my own money", reads the inscription on the façade of the house where Ludovico Ariosto (1474 - 1533) spent his twilight years, devoting himself to the third and final edition of Orlando Enraged, published in 1532.
The house, probably built to the design of Girolamo da Carpi, has a simple but elegant brick façade.
Interior: on the first floor a small museum dedicated to the poet has been laid out. The room on the right conserves the bronze cast of his inkstand, editions of his works and many medals representing him, including the one found in his tomb in 1801. In some of the visitors' books the signatures of King Vittorio Emanuele III, Giuseppe Verdi, Alberto Moravia, Elsa Morante and Giorgio Bassani are highlighted. In the small central corridor stands a display case which conserves the beautiful 1881 edition of Orlando Enraged illustrated by Gustave Doré. To the sides hang two paintings by Giuseppe Zola (18th century), chosen for the singular affinity between the magic atmosphere of his landscapes and that of Ariosto's poem. In the room on the left, with its elegant chimneypiece, are a nineteenth century bust and portrait of the poet and some furniture, including a chair that belonged to him.
Opening
10.00-12.30/16.00-18.00. Closed on Monday.
Closed December 25th.

2023 Special Openings:
How to get here
By bus: num. 3/C from the train station.
Partially accessible to people with disabilities.
last modified

Nov 28, 2023 09:34