Palazzo Costabili
In 1502 work began on the construction of a large palace on the Via della Ghiara (now Via XX Settembre) for Antonio Costabili, Ferrara's ambassador at the court of Ludovico il Moro, the Duke of Milan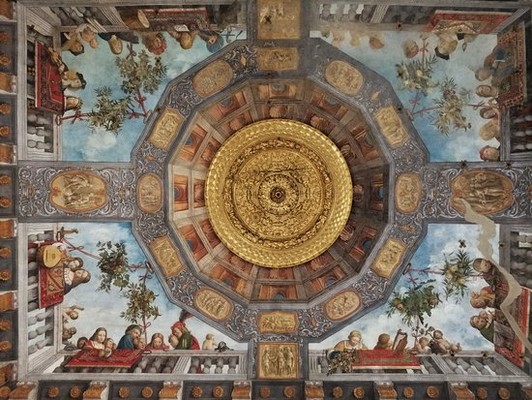 The work was commissioned to the court architect Biagio Rossetti, who accomplished in it one of his masterpieces. The grandiose building centres around the courtyard of honour, only completed on two sides and adorned with two open galleries in marble. The windows on the first floor were originally opened and bricked up in groups of two, giving a filled and void effect which can still, in part, be appreciated on the façade of the palace in Via Porta d'Amore: where there is a window with five panes in which the central one is bricked up. In the 1930s dismal restoration work opened the panes of all the windows to obtain an arcade in the style of Donato Bramante, to whom the design for the building was then attributed. For the same reason, namely to justify the attribution of the work to the Milanese architect in Ferrara, the legend arose that the palace had been built for the Duke Ludovico il Moro, widower of Beatrice d'Este, and had then remained unfinished when he fell from power and fled from Milan. Today, curtains are used to give the visitor an idea of the former appearance of the courtyard. Other interesting features of the complex are some of the rooms with 16th-century ceilings frescoed by Garofalo and the neo-Renaissance garden.
The National Archaeological Museum is also housed within the palace.
Opening
Visits to the palace are possible during the opening hours of the Archaeological Museum.
9.30-17.00. (Ticket office closes at 16.30). Closed on Monday.
Closed December, 25th.
Reservations recommended on Saturday and Sunday.
Price
Full 6,00 euro
Red. 2,00 euro (visitors aged 18 - 25).
Garden: 1,00 euro.
Ticket 8,00 € Museum + Exhibition 'Etruscan Spina' until April, 23rd 2023.
FREE ENTRANCE for the owners of MYFE tourist card


Free entrance 1st Sunday of each month.
Free
Up to age 18
Tourist guides
Disabled persons with one accompanying person
How to get here
On foot: 30 minutes from the Este Castle;
By bus: n. 2 from the Train Station.
last modified

Aug 22, 2023 05:49