Palazzo Massari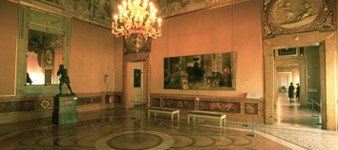 Built at the end of the 1400s, just a few steps away from Piazza Ariostea, with its bright open spaces, Palazzo Bevilacqua-Massari has been converted and extended several times over the centuries. Among the most important changes was the construction of an outhouse next to the main palace in an elegant neoclassical style, called the "Palazzina dei Cavalieri di Malta" (Palace of the Knights of Malta), since it belonged to the Knights in the period (1826-34) in which they were based in Ferrara. The broad entrance leads onto a garden where some interesting contemporary sculptures stand. The rooms are magnificently frescoed, decorated with stucco, furniture, carpets and furnishings that give them a very charming atmosphere. The palace is home to three important museums. Museum Giovanni Boldini. Museo dell'Ottocento. Museum of Modern and Contemporary Art "Filippo de Pisis".
Opening
Working Days
9.00-13.00/15.00-18.00.
Opening period
Visits are possible during the opening hours of the museums.
Price
See related pages (museums).
Information office
Main Tourist Information Office of Ferrara

0532 209370

infotur@comune.fe.it

http://www.ferrarainfo.com
last modified

Apr 16, 2012 05:48