Cathedral Museum
In line with the latest guidance, the Cathedral Museum is closed until further notice.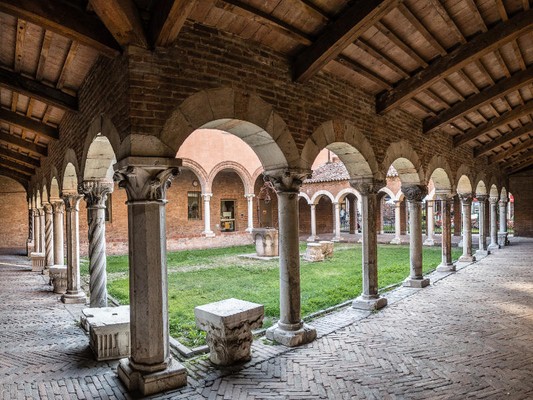 The Cathedral Museum, sited in the ex church of San Romano, was created through a join initiative between the Cathedral Chapter and the Municipality of Ferrara with the aim of documenting the history of the most important sacred temple of Este spirituality.
The collection is made up of ecclesiatic- and municipality-owned works. These include two great masterpieces such as the series of tiles by the Maestro dei Mesi (1225-30 ca.); the grandiose Madonna of the pomegranate by Jacopo della Quercia (1403-06); the splendid tapestries with the stories of Saints George and Maurelius (1551-53) woven by Johannes Karcher based on a drawing by Garofalo and Camillo Filippi; the monumental organ panels depicting Saint George and the dragon and the Annunciation by Cosmè Tura and the series of 24 anthem books illuminated starting from 1481 by Guglielomo Giraldi, Martino da Modena and Jacopo Filippo Medici.
Related documents
Opening
Closed until further notice.
___________________________________
9.30-13.00 / 15.00-18.00.
Closed January, 1st; 6th; December 25th, 26th.

The entrance is limited to 10 pax every 20'.
Reservations are recommended:
Price
Full 6,00 euro.
Reduced euro 3,00 ((over 65's, groups of 15 people).
FREE ENTRANCE for the owners of MYFE tourist card
Free
Up to age 18
Disabled persons with one accompanying person
Tourist guides
last modified

Dec 04, 2020 12:19