Delizia di Belriguardo
Built in 1435, the Delizia del Belriguardo was the first to be built outside the walls of Ferrara. It was one of the largest and most sumptuous stately homes of the Renaissance period, so much so that it was dubbed "The Versailles of the Estensi".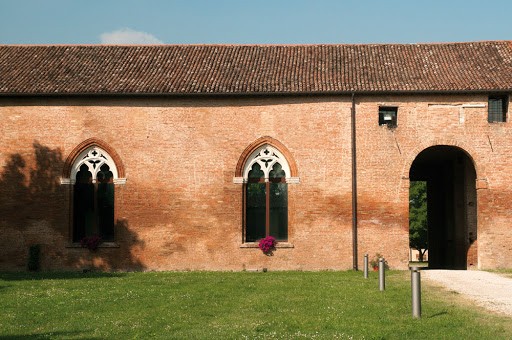 Built by the marquis Niccolò III, it was later extended by Duke Borso, who wanted it to contain one room for every day of the year. Besides the main building, it included two loggias around the minor buildings, with stables that could accommodate up to 200 horses. The entire complex was surrounded by vast gardens with ponds and fountains, embrasured walls with painted towers and a moat. All the major artists of the period worked on the construction one after the other, including the architects Pietro Benvenuti and Biagio Rossetti and the painters Cosmè Tura and Ercole de' Roberti. Not much of this splendour remains today, unfortunately. The central part of the palace conserves large splendid Gothic windows made of marble. The only room that is still painted is the Sala delle Vigne, attributed to Girolamo da Carpi: on the walls, beautiful imaginary landscape acts as a backcloth to a long series of caryatids that are holding up a vine bower, whose vine-shoots, leaves and bunches of grapes that take up the whole ceiling.

Today, the Delizia houses two museums: the Civic Museum of Belriguardo and the Giuseppe Virgili Room, dedicated to the works of a local modern sculptor.
Related documents
Opening
From Thursday to Sunday: 9.30-12.00; 15.30 -19.00
The others days: by reservation only: tel. 0532 328500 - 392 6761945
Visits are possible during the opening hours of the Archaeological Museum.
Price
5,00 euro. Red. 2,00 euro (disabled persons, students, under 18).
last modified

May 06, 2022 12:08