Church of SS. Pietro e Paolo
This very ancient church was first mentioned in a document dated 1143 but it was rebuilt in the 16th century and modified to the Baroque style in 1776 by the architect Antonio Foschini.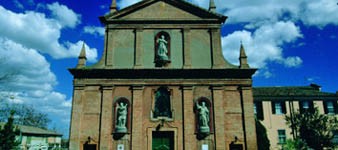 The brickwork façade however was by Baseggio and features two different levels culminating in an arched recess. The niches house tufa statues of Saints Peter and Paul and the Madonna. The interior of the church houses a canvas by Bastianino, a 17th century terracotta statue of Saint Antonio Abate and a beautiful choir with walnut pews with carvings of the seven villages which used to belong to the deanery.
TEMPORARILY CLOSED. DATE TO BE DEFINED.
Contacts
Vigarano Pieve
-
Via Mantova, 120

0532 715288
Information office
Main Tourist Information Office of Ferrara

0532 419190

infotur@comune.fe.it

http://www.ferrarainfo.com
last modified

Oct 15, 2015 10:51