Temple of San Cristoforo alla Certosa
In 1452, Borso d'Este promoted the construction of a Carthusian monastery away from the core of the city.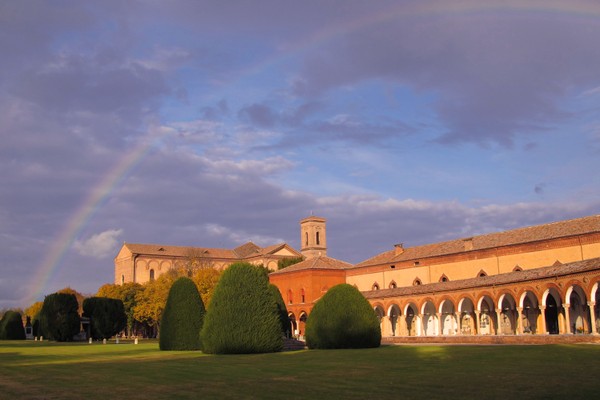 Isolation, in accordance with the order's regulations, was short-lived, however and already a few decades later the complex was within the walls of the d'Este family's Addizione Erculea urban plan, thus losing its hermitage-like quality. In approximately 1498, next to the ancient church and due to the wishes of Ercole I d'Este, construction began on the new and current Temple of San Cristoforo, which is one of the more original works of Ferrara's Renaissance and attributed to Biagio Rossetti. In the late 1700s, following Napoleonic suppression, the monks lost possession of the convent and church. Many of the precious works of art in the church ended up being scattered. 

Purchased by the City of Ferrara, the Temple was opened for worship again in 1813 while the adjacent area became a public cemetery. The transformations were substantial in that they involved the ancient church and part of the cloister, which were torn down, while the left wing of the curved portico was then built, which reflects the piazza opposite. Decades after the terrible bombardments Ferrara suffered in 1944, after years of intense restoration, the church of San Cristoforo alla Certosa was open for worship again, meeting the objective of making available to the public a portion of the immense wealth of art, including paintings, carved wood choirs, the ciborium, altarpieces, crucifixes and other liturgical furnishings.
Opening
8.45 - 17.15 (Summer).
8.45 - 16.45 (Winter).

On Sundays, visits to the church are not allowed during Holy Mass (10-11 am).
Contacts
Ferrara
-
Piazza Borso, 50

0532 232933

0532 232944

arteantica@comune.fe.it

http://www.artecultura.fe.it/...
How to get here
On foot: 20 minutes from the Castle Estense.
By bus: No. 3c from the railway station, No. 4c from the city center (c.so Martyrs), stop Porta Mare Ariostea (about 350 meters).
Accessible by car (via Borso).
last modified

Sep 18, 2023 02:42