Giovan Francesco Barbieri - Il Guercino
Giovan Francesco Barbieri, known as il Guercino was one of the most famous painters of his time.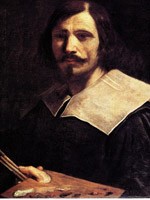 His intense pictorial activity taken alone would almost be enough to explain the very particular development of Baroque art. As a young man he was greatly influenced by the tradition of Titian and the artists from Veneto, Correggio and Emilia. He translated their pictorial language in a very personal manner, giving life to works full of vibrant energy and works of greater intimism, but no less exciting. The fame he reached in his home town and in Bologna afforded him the protection of the future pope Gregory XV and prompted his move to Rome where he came into contact with the tendential return to ideal classicism, which in Guercino's work was manifested as a concentration on the study of composition. When the Pope died, Guercino returned to Cento and worked solely within the Emilian circle later becoming leader of the movement in Bologna following the death of Guido Reni.
Information office
Main Tourist Information Office of Ferrara

0532 419190

infotur@comune.fe.it

http://www.ferrarainfo.com
last modified

Oct 13, 2015 10:14