Cosmè Tura
Painter, miniaturist and sculptor, Cosmè Tura (1430 – 1495) is considered the initiator of the fifteenth century Ferrara School of painting.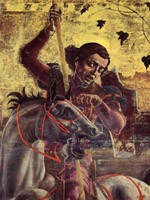 He was largely a court painter, working regularly for his patrons, Borso d'Este and his successor Ercole I. A polyedric artist, he invented an artistic idiom imbued with fantasy yet highly popular. Not surprising, considering that most of his commissions were from a court renowned for its luxury and magnificence. Among his most renowned masterpieces, on view at the Cathedral Museum, the decoration of the old Cathedral organ door,  The Annunciation and St. George Killing the Dragon: the princess's anguished expression, the Saint's sullen visage, the horse's terror-struck countenance, and even the harsh-looking mountains in the background all sharply convey a sense of intense drama.
Two circular paintings, housed in the National Art Gallery of Palazzo dei Diamanti, depict scenes from the life of St. Maurelio: The Judgement and The Beheading of St. Maurelius.


last modified

Nov 24, 2020 11:31