The Boscona Nature Reserve
At the edge of the village of Mirabello there is the entrance to the nature reserve made on the former bed of the river Reno.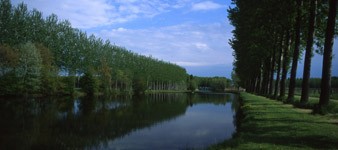 Cultivation has been diversified, using modern systems of management which allow wide space for organic cultivation, alternating with hedges, with mournful lines of poplars, farnia oak, ancient mulberries, and mills that were once used to work hemp.
A rich fauna finds refuge in this countryside: hares, pheasants, wild duck, grey herons and birds of prey can be spotted at all seasons. At the edge of the reserve is the majestic Palazzo Aldrovandi. The agricultural group there produces grapes of excellent quality and a high level of sweetness, used also to make wine.
They also provide horseriding, riding lessons for beginners, and an agriturismo.
Contacts

0532 847630

0532 358098

pradine@tin.it

http://www.lepradine.it
Information office
Main Tourist Information Office of Ferrara

0532 419190

infotur@comune.fe.it

http://www.ferrarainfo.com
How to get here
By car: motorway A13 exit Ferrara nord direction Modena; 1 km passed Mirabello on the left is the entrance to the oasis, behind the farm Agriturismo Le Pradine.
By autobus: atc line 3500/3600 Bologna-Bondeno, stop in Mirabello; atc line 4000 Ferrara-Modena - stop in Mirabello.
By bicycle: from Ferrara along the Burana" cycleway in Bondeno direction, we reach Vigarano Pieve, where turn left onto the cycle path on via Rondona, continue to Vigarano Mainarda, and then the village of Mirabello.
11° 26' 48'' E - 44° 48' 58'' N


last modified

Oct 06, 2015 05:43