Monastery of Corpus Domini
It keeps the memories of Santa Caterina Vegri together with some tombs of the Este family: among them, the tomb of Lucrezia Borgia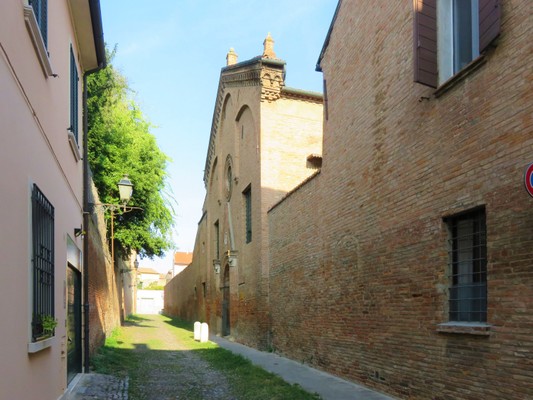 The monastery stands in the old part of the city, at the centre of a maze of narrow streets, in one of medieval Ferrara's smartest areas, just a stone's throw from San Francesco and the palace once owned by the Este family.

Founded in 1406, this convent of cloistered Clarissa nuns conserves the heirlooms of St. Catherine Vegri, a damsel of noble origins who abandoned the luxuries of the court to devote herself to the religious life. She was a mystic and a writer and lived here until 1456. The convent owes its fame to the fact that several members of the Este family are buried here. In the nuns' choir lie the remains of Eleonora d'Aragona, Alfonso I, Ercole II, Alfonso II and the famous Lucrezia Borgia who was particularly devoted to this place during her life. The tombs of Eleonora, Alfonso I's daughter, and Lucrezia, Ercole II's daughter, who both entered convent life are also to be found here. The interior of the public church was richly decorated in the Baroque era and among other works presents a large fresco on the ceiling, The Glory of St. Catherine Vegri, a particularly fine and graceful work by Giuseppe Ghedini (18th-century).
Opening
From Monday to Friday: 15.30-17.30. Closed Saturday and Sunday.
Closing days
Sundays and holidays
Saturday
Price
Donations are welcome.
Contacts
Ferrara
-
Via Pergolato, 4

0532 207825
How to get here
On foot: 10 minutes from the Este Castle;
By bus: n. 1. 9 from the Train Station.
last modified

Apr 28, 2023 03:03