Romanesque Church of San Venanzio
The Romanesque church of St. Mary Savonuzzo, otherwise known as the church of San Venanzio, was built in 1344 above an old riverbed, by the orders of Giovanni da Saletta, the local overlord, as shown on the wall plaque on the facade.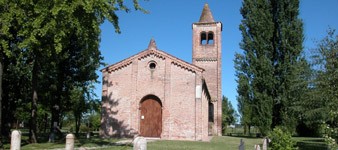 In 1466, following the death of the last male heir in the Saletta family, the church was left in a will to the Poveri di Cristo order. In 1458 the new overlord appointed by Leonello d'Este, Folco da Villafora, redeemed from the Poveri di Cristo the rights that they held over the little church, and it remained under the patronage of Villafora until the XVIIth. Century, when the entire holding passed to the Varano Dukes of Camerino. In 1889 the Varano properties were bought at an auction by the Finzi-Minerbi company. The Church of San Venanzio, having been deconsecrated in 1918, was then used as a storage depot for agricultural implements and as a silo for hemp. Some remains of the attractive XIVth century frescoes have been restored inside the church, based on stories from the life of the Virgin, to whom the church was dedicated.
Opening
Open from April 1st to September 30th: Saturday and Sunday 16 - 19.
Guided tours for groups only by previous arrangement at the Municipal Library (tel. 0532 864633).
Contacts
Saletta
-
Via per S. Venanzio

0532 864633
last modified

Oct 24, 2023 01:12