The Salina
The Comacchio Saltworks, one of the most interesting naturalistic areas of the Po delta Park for the fascinating flatness of its environment, interrupted only by the silent presence of the Casoni, the buildings in which the ancient salt extraction works were once based, is one of the most important birdwatching sites.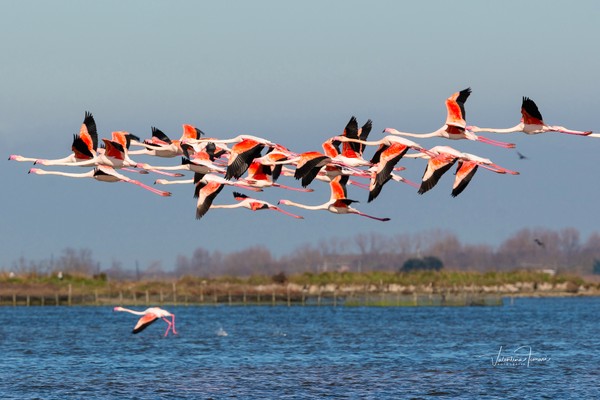 This roughly 7-km route offers an ideal tour for birdwatchers, hikers or cyclists to discover a very special place where water evaporates to extract the precious salt.

Covers an area of about 600 hectares and consists of a gentle succession of canals and earth passages that delimit the shallow basins with their high salt concentration, the perfect environment to allow a very large number of species to stop over and settle. The "jet set" here is represented by the large flocks of red flamingos.

Thanks to the very high concentration of salt in the water here, these birds are able to find plenty of brine shrimp (Artemia Salina), a pigmented microrganism that only survives in conditions offered by this type of oasis. It is their favourite food in fact; it gives them their characteristic pink colour.
How to get here
By car: Road Romea south, pass the roundabout of the Lido degli Estensi and the bridge on the Logonovo canal, then turn right and walk along the narrow street that runs through the canal to the bottom, where is the entrance gate of the Salina.
By bike: From the Lido degli Estensi, in the port area near the canal of Porto Garibaldi, starts a cycle path, which initially links via Cagliari, then continue to the Salina
last modified

May 19, 2021 12:07