Cathedral of San Cassiano
In the huge square called St. Cassiano the beautiful town Cathedral rises up with its 18th century solemn bell tower.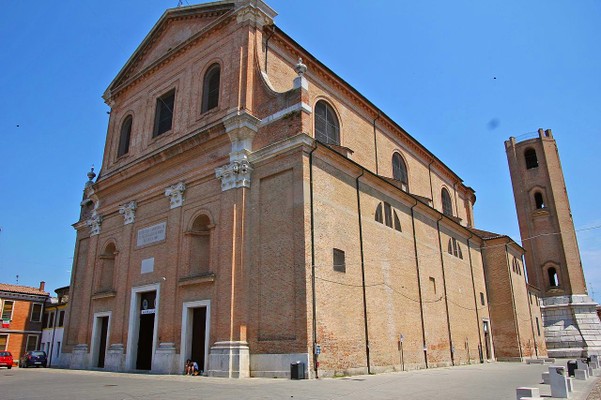 It is dedicated to St. Cassiano, the patron saint of the city whose wooden statue dominates from above in the deep apse. Of the primitive temple, only a small valuable white marble statue of St. Lucy remains from the first half of the 5th century. The relics are massed together in the dim light of the nave. On the side of the Cathedral rises the bell tower, adorned by a rounded base of marble. The former bell tower was built in 1751 but the present bell tower was erected again in 1757.
Opening
Every day ore 9.00-12.30; 15.00-18.30

Ask the Tourist Information Office for the Holy Masses schedule
Contacts
Comacchio
-
P.zza XX settembre. Parrocchia, Via Menegazzi, 3

0533 81136
How to get here
By car: from Ferrara by Motorway Ferrara-Porto Garibaldi, Comacchio exit, take the S15 Via del Mare and at the end turn left on Via Spina. At the round turn left in Via Zappa then reach Via Mazzini.
By bus: line from Ferrara Ferrara-Ostellato-Lidos of Comacchio. From the bus stop about 500 meters.

last modified

Mar 12, 2020 11:39