Ferrara Food Festival
Multiple events
The agri-food excellences of Ferrara and its territory are on display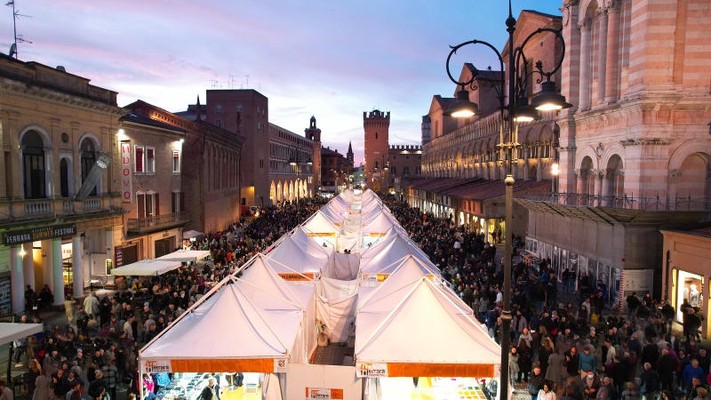 Three days are scheduled - from 4th to 6th November 2022 – focused on traditional flavours and a rich calendar of events in the streets in the centre of Ferrara: cultural and gastronomic events, tastings, show cooking, historical re-enactments, exhibitions, conferences and workshops.
The great gastronomic tradition of Ferrara and Emilia is finally being celebrated in this event dedicated to the genuine flavours of the Este tradition!
Ferrara but not only: artisans of taste from all over Italy are ready to let you taste the best regional products and cuisines, available at this festival of good eating!
The municipalities of the province are also taking part in the Ferrara Food Festival, each one of them the guardian of a precious gastronomic pearl, with the involvement of various consortia of the area, protagonists with their leading products such as the garlic of Voghiera DOP, the Vino del Bosco Eliceo DOP, the rice from the Po delta PGI, the coppa Ferrarese PGI, the pear from Emilia Romagna PGI and the inevitable Pampepato di Ferrara PGI.

The streets of the town centre will host various events and shows, such as the re-enactment of the marriage between Lucrezia Borgia and Alfonso D'Este, performances by flag-wavers, shows, fire shows and the wonderful infiorata flower festival that will create a genuine work of art dedicated to a symbol of the city in real time.
Timetable
Itinerant shows, animation, events dedicated to foodies and gourmets such as tastings, show cooking, exhibitions, conferences and educational workshops.
See the detailed programme on the official website>>   https://www.ferrarafoodfestival.it/
Where
Ferrara - Centro storico
When
From 4th to 6th November 2022
Opening
From 9.00 to 20.00