Museum of Contemporary Art "Remo Brindisi"
In viale Nicolò Pisano, not far from the beach, at Lido di Spina there is the splendid and modern villa - museum of the contemporary painter Remo Brindisi, who loved to spend here his leisure time.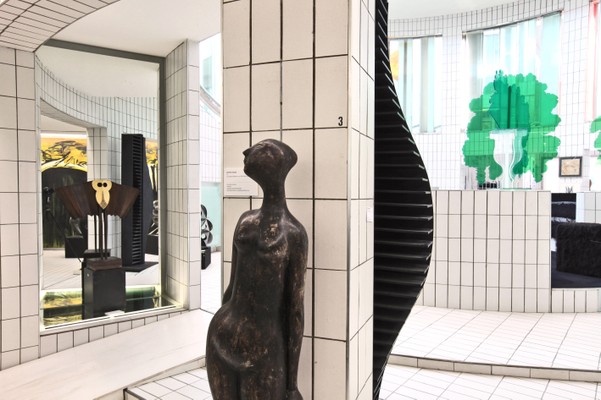 The museum is dedicated to painting, sculpture, graphic art, and architecture. There is no need to be a fan of contemporary art to appreciate it. The imposing building, unique in Italy, is inspired to the Bauhaus movement and was built in 1971-1973 on a project by architect and designer Nanda Virgo. Brindisi collected a great number of prestigious works ranging through a whole century of international contemporary art, with an emphasis on the Milanese art of 1950s-1970s. Among the most significant masterpieces are those by Picasso, Dalì, Modigliani, De Chirico, Fontana, Morandi, Chagall, Guttuso, Giò Pomodoro, Emilio Isgrò and Brindisi himself. Moreover: Spatialism and Nuclear Movement (Fontana, Crippa, Dova, Tancredi, Baj); Cinetic Art (Manzoni, Bonalumi, Schegghi, Nicolotti, Alviani, Colombo, Boriani); Pop and Nouveau Réalisme (Arman, Cèsar, Rotella, Hains, Schifano, Warhol); Abstract and Informal art, the CoBrA Group, and many designers as Nanda Vigo, Bruno Munari, Achille Castiglioni, Pio Manzù, Vico Magistretti, Giò Colombo.
It is also possible to admire some works of art from the early XX Century: masterpieces by Medardo Rosso, Alberto Savinio, Mario Sironi, Felice Carena, Tullio Crali, Giacomo Balla, Arturo Martini, Fausto Melotti, Filippo De Pisis, and many more.

The Museum of Contemporary Art "Remo Brindisi" has gained the Quality Museum status, recognized by Istituto per i Beni Culturali dell'Emilia-Romagna.
Opening
Until November, 5th
open Thursday, Friday, Saturday, Sunday and public holidays 10 am -12.30 pm / 3 pm - 6.30 pm.

Info
+39 0533 314154 (IAT Comacchio)
Free
Up to age 11 (with parents)
Tourist guides
Conscripts
Information office
Ufficio Informazione e Accoglienza Turistica di Comacchio
Via Agatopisto, 2/a c/o Settecentesco Ospedale degli Infermi

0533 314154

0533 319278

comacchio.iat@comune.comacchio.fe.it

http://www.turismocomacchio.it
last modified

Oct 19, 2023 10:42