Locanda Ristorante Il Fagiano
The restaurant Il Fagiano is located in a restored old bar, surrounded by the delightful countryside of Ferrara, close to a splendid lake. The particular furnishing and the suggestive lighting contribute to create a full of charm enthralling atmosphere: a ideal place for each type of events, as meetings, conventions, conferences. It's possible accompany the event with a catering service also with traditionals gastronomic specialities.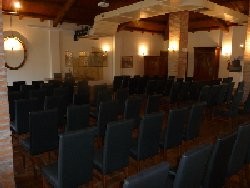 Contacts
Via Comunale 89/91 Settepolesini di Bondeno (Ferrara)

0535 886519 / 348 4975755

0532 886519

info@locandailfagiano.it

http://www.locandailfagiano.it/...
last modified

Nov 22, 2012 09:13