Palio of Ferrara 2020
Folklore and festivals
A month of celebrations, parades, flag-throwing competitions and a spectacular horse race in Piazza Ariostea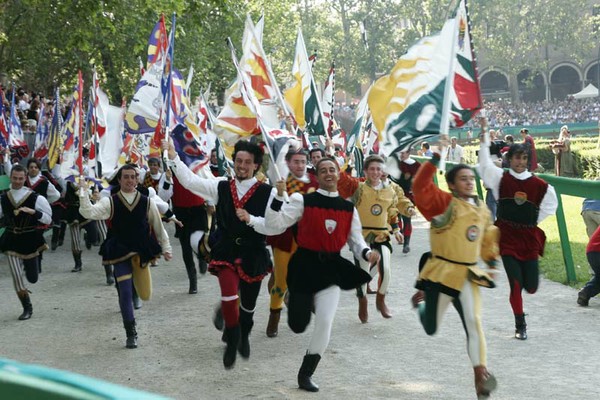 The Palio was made official in 1279 and rapidly transformed into the symbol of a glorious and fascinating Renaissance.

Since then rituals and dates have only changed slightly, celebration in the town has not been altered. A month of celebrations, parades, races and competitions between the eight Contrade [quarters tied to the parish] to win the precious drape dedicated to Saint George, the patron saint of Ferrara.

The already warm month of May welcomes the figurants in original costume who parade through the streets of the city centre and the hard-fought flag-throwing competitions in Piazza del Municipio take us up to the spectacular horse race in Piazza Ariostea.
Timetable
To be defined, h. 9pm Chiesa del Gesù (Via Borgo dei Leoni)
BLESSING OF THE PALII
The Contrade take part to the Holy Mass in the Cathedral, each of them offering a candle to the altar. The bishop blesses the "palii", the prizes for the winners of the four races all'altare.
To be defined

, h 3.30pm
Piazza Municipale
JUNIOR FLAG-WAVING GAMES

To be defined, 17th, h. 8.30pm   
Piazza Municipale
OLD GAMES OF THE ESTE FLAGS
The flag wavers of the Ferarra Palio have been masters of their art for hundreds of years and have won numerous international competitions. These competitions also draw a huge crowd of devoted fans. The music, colour and acrobacy of these exhibitions has the effect of carrying the public back in time to the golden days of when the Este family ruled the city.

September, 19th, h. 9 pm
Corso Ercole I d'Este (from Porta degli Angeli) - Corso Ercole I d'Este, Largo Castello, Corso Martiri della Libertà, Piazza Municipale.
HISTORICAL PROCESSION
The contrade, represented by over 1000 people in Renaissance costumes, parade from Porta degli Angeli along Corso Ercole I d'Este to Piazza Municipale.

September, 24th and 25th
Piazza Ariostea 
HORSES TESTING
September 26th, h. 4 pm
Piazza Ariostea
RACES OF THE PALIO
The races take place every year on the last Sunday of (May) SEPTEMBER 2020, to recall the extraordinary Palio that celebrated the crowning of Borso d'Este as first Duke of Ferrara in 1471.
The races are four:
Corsa dei putti - Boys' race (Palio di San Romano)
Corsa delle putte - Girls' race (Palio di San Paolo)
Corsa delle asine - Donkey race (Palio di San Maurelio)
Corsa dei cavalli - Horse race (Palio di San Giorgio).
Where
Ferrara, centro storico e Piazza Ariostea
Contacts
Ente palio città di Ferrara - Via Mortara, 98
0532 751263
0532 752207

info@paliodiferrara.it