Ferrara in Jazz 2017
Music
From October to April the Torrione San Giovanni, a splendid round tower along the Renaissance city walls, becomes a venue for jazz lovers.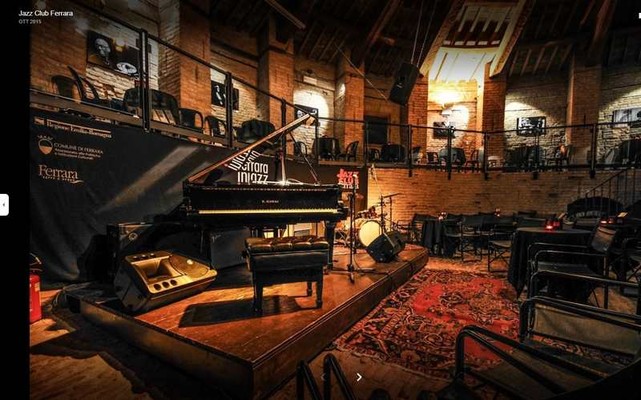 Since 1999, the Jazz Club is hosted by the beautiful Torrione di San Giovanni, which is a part of the city walls. There, it is possible to enjoy about 70 concerts, from September to late April.
Many important characters of the international jazz panorama have played there, making one of the best European jazz clubs out of it.
Many collaborations have been organized in the last few years: with Ferrara Musica, Ferrara Arte, Conservatorio G. Frescobaldi, Memorial Mirto Govoni, Crossroads - Jazz e altro in Emilia-Romagna and Bologna Jazz Festival.

Every Monday, Friday and Saturday evening the major interpreters on the national and international scene give this place the typical atmosphere of the classic jazz clubs.
Timetable
-April, 1st, 2017
STEVE COLEMAN "REFLEX"
Steve Coleman, sax alto; Anthony Tidd, electric bass; Sean Rickman, drums
-April, 3rd, 2017 MONDAY NIGHT RAW
THE MIGHTY Q + JAM SESSION
Beppe Scardino, sax baritono e clarinetto basso; Pasquale Mirra, vibrafono;Glauco Benedetti, tuba; Marco Frattini, batteria
-April, 7th, 2017 SOMETHIN'ELSE
GEGE' TELESFORO FUNSLOWRIDE
Gegè Telesforo, voice; Joanna Teters, voice; Alfonso Deidda, sax, piano, flute and voice; Seby Burgio, piano, drums; "Fratello" Joseph Bassi, double bass; Dario Panza, drums
-April, 8th, 2017
ROBERTO GATTO INTERNATIONAL
Javier Vercher, sax tenore; Sam Yahel, piano; Dario Deidda, electric bass; Roberto Gatto, drums
-April, 10th, 2017 MONDAY NIGHT RAW
HOBAMA + JAM SESSION
Claus Højensgård Andersen, trumpet and flugelhorn; Emanuele Maniscalco, piano; Nelide Bandello, drums
-

April 14th, 2017
Jazz goes to college
In collaboration with Conservatorio "G. Frescobaldi" - Ferrara
Roberto Manuzzi Sax Society feat. Roberto Rossi
Roberto Manuzzi, sax contralto; Roberto Rossi, trombone;
Vincenzo Serra, sax contralto and clarinets; Stefano Melloni, Andrea Ferrario, Marco Accoroni, saxophones;Fabio Mazzini, guitar; Pierfrancesco Melucci, piano;
Francesco Zaccanti,  double bass; Stefano Guarisco, drums
-April, 15th, 2017
FABRIZIO BOSSO QUARTET
Fabrizio Bosso, trumpet; Julian Olivier Mazzariello, piano;
Luca Alemanno, double bass; Nicola Angelucci, drums
-April, 17th, 2017 MONDAY NIGHT RAW
CASAGRANDE - SIGURTA' DUO + JAM SESSION
Fulvio Sigurtà, trumpet; Federico Casagrande, guitar
-April, 21st, 2017 SOMETHIN'ELSE
Chico Pinheiro - Nilson Matta "Jazz Samba" Duo
Chico Pinheiro, guitar; Nilson Matta, double bass
-April, 22nd, 2017
JAQUES MORELEMBAUM CELLO SAMBA TRIO
Jaques Morelenbaum, cello; Lula Galvão, guitar; Rafael Barata, drums
-April, 24th, 2017
AARON PARKS TRIO FEATURING BILLY HART
Aaron Parks, piano; Ben Street, double bass; Billy Hart, drums
-

April 28th, 2017
The Tower Jazz Composers Orchestra
Special Guest Marta Raviglia, voice; Piero Bittolo Bon, saxophones, clarinets; Alfonso Santimone, piano, electronics, Sandro Tognazzo, flute; Gianluca Fortini, clarinets; Glauco Benedetti, tuba;Beppe Scardino, Tobia Bondesan, Filippo Orefice, saxophones; Pasquale Paterra, Mirko Cisilino, Gabriele Cancelli, trumpets; Lorenzo Manfredini, Federico Pierantoni, Filippo Vignato, tromboni; Riccardo Morandini, Luca Chiari, guitars; Alessandro Garino, Federico Rubin, piano; Stefano Dallaporta,double bass;Simone Sferruzza, Andrea Grillini, drums; William Simone, percussions
Where
Ferrara - Torrione San Giovanni - Via Rampari di Belfiore, 167
When
From October 2016 to April 2017
Opening
Concerts start at  9.30 pm; Jam session 11 pm
Price
Full price: From 15 to 25 euro
Red. from 10 to 20 euro.

Ferrara Jazz Club is linked to Endas association: it is necessary to own a guest pass, in order to enter the club. It is possible to get a guest pass before the events.
Contacts
Jazz Club Ferrara - Torrione San Giovanni - Via Rampari di Belfiore 167
339 7886261 - 333 5077059

jazzclub@jazzclubferrara.com