Sounds and colours in the Comacchio Lagoons
The mysterious Delta waterways: Excursions organised by Navi del Delta Consortium in the Po Delta and in the Comacchio Lagoons.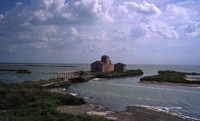 From April 1st to November 4th 2012
Imbarco: Valle Campo – Lido di Spina, ingresso dalla SS 309 Romea km 21
This is a tour that will excite you as only nature can stir up such beautiful emotions. The banks covered by vegetation define a wide expanse of brackish water where beautiful aquatic birds live. During the tour there will be both a navigation with a typical boat and a walk to learn more about the traditional eel fishing techniques. Duration: 2,5 hours. Departure guaranteed. Booking required.
Opening
All Sundays from 1 April to 3 June and from 09 September to 4 November at 10.30 am. All Fridays from 8 June to 7 September at 5.00 pm.
Price
Euro 15.00 adults; euro 9.00 children aged 4 to 10. Children under 4 free
Contacts
Po Delta Tourism - Corso Mazzini, 136 44022 Comacchio (FE)
0533/81302 - 346 5926555

info@podeltatourism.it
Information office
Tourist Information Office of Comacchio
0533 314154
0533 319278

comacchio.iat@comune.comacchio.fe.it

http://www.turismocomacchio.it
last modified

Apr 08, 2013 11:15