Museum of Contemporary Art "Remo Brindisi"
In viale Nicolò Pisano, not far from the beach, at Lido di Spina there is the splendid and modern villa - museum of the contemporary painter Remo Brindisi, who loved to spend here his leisure time.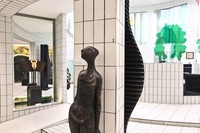 The museum is dedicated to painting, sculpture, graphic art, and architecture. There is no need to be a fan of contemporary art to appreciate it. The imposing building, unique in Italy, is inspired to the Bauhaus movement and was built in 1971-1973 on a project by architect and designer Nanda Virgo. Brindisi collected a great number of prestigious works ranging through a whole century of contemporary art. Among the most significant masterpieces are those by Picasso, Dalì, Modigliani, De Chirico, Fontana, Morandi, Chagall, Guttuso and Brindisi himself.
Opening
Opening period: 7 April - 14 October
From 7 April to 30 June Saturday and Sunday + 25 April, 1 May
10,00 - 12,30;15,30 - 18,00.
Contacts
Lido di Spina
-
Via Nicolò Pisano, 45

0533 318748; 0533 314154

http://www.centri-contemporaneo-er.it/...
Information office
Tourist Information Office of Lido di Spina

0533 333656

iatlidospina@comune.comacchio.fe.it

http://www.turismocomacchio.it
last modified

Feb 13, 2013 11:31